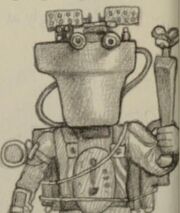 Techno-Man 
was one of
Mimi's
former servants. Of the three dolls that she had working for her, he was the only one who had joined her voluntarily. Upon hearing about him from
Callie's
dolls,
Annabelle
was very surprised that he was a living action figure as
Nanny
had previously told her that action figures
never
took the oath because they would be too reckless to uphold the Doll Code of Honor.
When Mean Mimi launched her attack on BJ's room, Techno-Man launched plastic missiles all over the place which caused minor damage to some of the objects. Then, he threatened to shoot Tiffany, to which she replied "go ahead!". Surprisingly, Techno-Man quickly left the room. However, he later returned driving a remote-controlled car, which was being operated by Mimi. He successfully captured Penny, but was stopped when Tiffany kicked off his helmet, revealing that Techno-Man was really an ordinary doll. Humiliated, he ran into the hall and none of the dolls saw him for the rest of the weekend.